About the Project
The Carousel of Smiles project is a unique effort: to restore an historic antique carousel to its former glory, repurpose it with a newfound mission, and bring smiles to new generations.
The Hutchisons have brought this old treasure across the country to Sandpoint for restoration. They have founded a nonprofit organization to take custody of the carousel and shepherd its restoration and new life. Volunteers and donors to the cause are invited!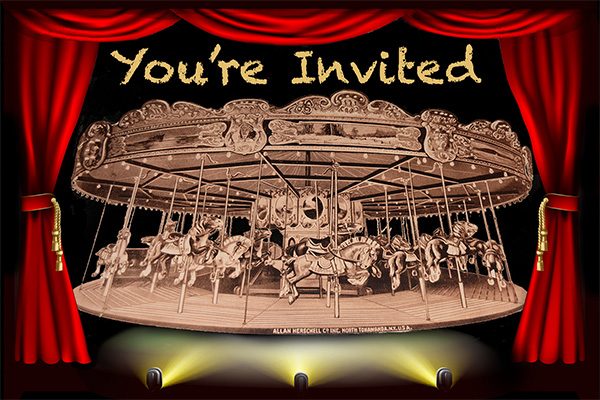 The Unveiling
The Carousel of Smiles Project Launch
Date: Saturday, December 16th & Sunday, December 17th, 2017
Location: Bonner County Fairgrounds
Please join us and see the assembled (unrestored) carousel, and find out about how you can help and participate in this incredible project.
Saturday Afternoon: 1:00 – 6:00. We will "draw the curtain back" to reveal the assembled, unrestored carousel. Doors open at 1:00 pm, browse exhibits and enjoy hot cocoa and cookies. Curtain draw at 2pm.
Sunday – Public Open House: 10am to 4pm. Visit with the carousel, browse exhibits, enjoy hot cocoa and cookies and other activities
Subscribe to our newsletter
Receive updates straight to your inbox on
The Carousel of Smiles restoration project.
Support The Carousel of Smiles
This is a community centered project we gladly accept all forms of support, both large and small. We will be accepting online donations soon!